https://www.techinasia.com/pakistan-digital-landscape-2016/amp
There are over one million people coming online via their phones every month in Pakistan, but that's just the tip of the iceberg.
The total number of internet users in the South Asian country currently stands at 35.1 million, representing 18 percent of the 194 million population. That means large swaths are still offline and are likely to be brought into the fold as broadband coverage expands across the country.
For perspective, the entire population of Australia is 23.1 million. Malaysia and Singapore stand at 30 million and 5.4 million respectively.
In terms of sheer population density, Pakistan is the fourth-largest country on the Asian continent – behind Indonesia, India, and China.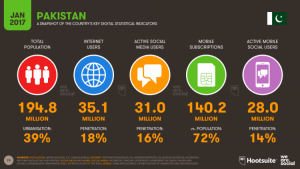 The numbers have been put together by digital marketing agencies Hootsuite and We Are Social.
Their presentation states that internet users in Pakistan swelled by 20 percent in 2016. Active social media users grew even more rapidly – registering growth of 35 percent year-on-year.
The global average stood at 10 percent for increase in internet users and 21 percent in social media profiles.
And Pakistan's just like any other emerging market – the overwhelming majority of web traffic is via mobile. Newest data shows mobile phones account for 70 percent of the overall action – a 13 percent increase from last year. The share of PCs sits at 27 percent after declining by a meaty 22 percent since 2015.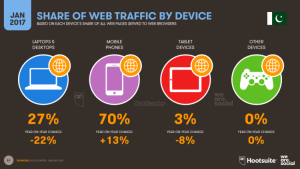 In 2015, it was estimated that Pakistan's mobile phone market was worth around US$840 million. But this figure only accounts for phones imported via legal channels. A substantial amount – especially high-end models – are brought into the country through the grey market.
The country's obsession with phones isn't going to die down anytime soon