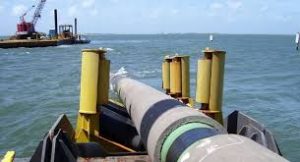 ISLAMABAD – Pakistan and Russia have finalized a memorandum of understanding (MoU) for conducting a 'feasibility study' of the planned undersea gas pipeline involving four countries — Pakistan, Iran, Russia and India.
Foreign Office spokesman Dr. Muhammad Faisal said on Friday that the ministries of the energy of both countries have finalized a MoU for conducting the feasibility study for implementation of the undersea gas pipeline project.
The purpose of the MoU was to assist in providing support for the realization of the project which has been under discussion since last year, he added
The spokesman said based on the results of the feasibility study, the two countries would take a decision for the future of the project.
Moreover, he said that Russia's keen desire was to promote energy cooperation with Pakistan as the two countries are moving ahead with strengthened bilateral relations, adding that the two countries had concluded various proposals in the energy sector, including construction of North-South Gas Pipeline, import of LNG from Russia, installation of air mix plant and establishing a 600MW combined cycle power plant.
Responding to a question, Dr. Faisal denied that the new project would replace the stalled Iran-Pakistan gas pipeline project. "The IP gas pipeline is a separate project," he clarified.
Last week, it was reported Pakistan and Russia were all set to formally ink a billion-dollar energy deal for the construction of an offshore gas pipeline and the supply of gas to Pakistan as Russia wants to export gas to South Asian countries.
Source of the news: https://en.dailypakistan.com.pk/pakistan/pakistan-russia-to-conduct-feasibility-study-for-undersea-gas-project/