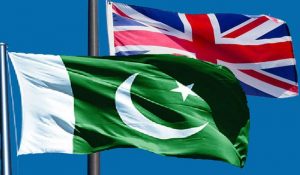 https://www.thenews.com.pk/amp/232188-UK-to-support-Pak-trade-growth
Open-Ed in the News by UK International Minister for Trade Greg Hands
UK Minister of State for Trade Policy 2017 marks 70 years since this country's birth, and 70 years of bilateral relations between Pakistan and the UK. This is also a momentous time for the UK. As we prepare for our departure from the European Union we will look to strengthen our links across the world to countries like Pakistan where our commitment to trade can secure a more prosperous future for our citizens.
I have been trying to come to Pakistan for many years, and now as a Minister in the UK's new Department for International Trade, I have finally had my chance this week. It's been worth the wait. I've found a country with its own proud trading history dating back thousands of years, a modern and vibrant business community and strong ambitions for its future growth.
During my visit, I was able to make clear to ministers and business leaders about the strength of the UK's commitment to Pakistan. The UK — both as a long-term friend to Pakistan and as a champion of free trade — has long been Pakistan's advocate in Europe, and we are unashamedly a cheerleader for GSP+ and Pakistan's inclusion.
As the UK leaves the European Union, I am delighted to be able to announce that the UK plans to continue the GSP+ model which will ensure tariff free access for most Pakistani exports to ensure Pakistan maintains its access into the UK market. Given the UK has always been at the forefront of widening and enriching GSP+, we would certainly be looking to give Pakistan even more access to the UK market once we have left the European Union and can decide our own trade policy for the first time in forty years.
And let's not forget how important the British market is to Pakistan: 25% of Pakistan's trade in the EU is with the UK.
Meanwhile large British companies like Standard Chartered, Unilever and Reckitt Benckiser are performing brilliantly here – giving jobs to thousands of people in Pakistan, and supplying innovative, market-leading products to their customers and bringing new innovations.
Yesterday, I visited GSK — a leading British pharmaceutical company — which employs over 2,000 people in Pakistan. It's a company which really believes in Pakistan, having invested $75 million in manufacturing equipment here in recent years.  The four billion pills and other medicines produced at its biggest site in Karachi each year include vaccines which have immunised 24 million Pakistani babies since 2012.
While in Pakistan, I was also able to announce that the UK has doubled from £200m to £400m the amount of money UK Export Finance will provide to help UK do business in Pakistan and help Pakistan's buyers to access finance to source high-quality UK goods and services.
I was also delighted to announce that the Prime Minister of the UK has appointed Rehman Chishti MP as the new Trade Envoy to Pakistan. He is already well known in Pakistan, and has been championing UK-Pakistan relations for many years, including as the chair of the influential All Party Parliamentary Group for Pakistan in the UK Parliament.
I was also clear about where we need to do more work. 150 British companies working in Pakistan might sound a lot, but given the links between our two countries, there should be many more. Earlier this year, I increased the size of our trade team in Pakistan to boost the trade between our two countries, and as I told staff in our office in Islamabad and Karachi, there are many opportunities we can be helping UK and Pakistani businesses seize. I have challenged the whole mission to promote British businesses in Pakistan – and Pakistani business in the UK – and we will be looking at what more we can do to support that.
Pakistan also has a role to play. Continuing the IMF and World Bank reforms — which the UK is supporting through UK Aid — is vital for Pakistan's economy. Widening the tax base, and ensuring it is implemented consistently, is also central to a stronger economy and better funded education, infrastructure and other public services. Pakistan's latest ranking as 144th by the World Bank, out of 197 countries for ease of doing business is an improvement, but there is room for more. It is not simply about attracting more overseas investors — though that helps — it also means Pakistani firms can be more competitive, employ more people and make more profit to invest back into the local economy.
I am optimistic that Pakistan will take on these challenges. In my discussion with Commerce Minister Pervaiz Malik, and others in the government, I saw a commitment to improving, developing and reforming the economy to support its businesses.
Early one morning this week, I was able to visit Taxila. Rightly recognised as one of South Asia's most important archaeological sites and possibly the world's oldest city, it was an important staging post in the Silk Road. Over two thousand years ago, people from across Europe and Asia were trading across thousands of miles. Nowadays Pakistan is again at the crossroads of major global trading routes, with China on its border. Championing that trade and its opportunities will bring huge benefits for Pakistan's people.
We in the UK are equal advocates for trade, as our Prime Minister has made clear, the UK must be a champion of free trade around the world. That is why we are clear that trade between our two countries is vital to the interests of both our businesses, economies and people.