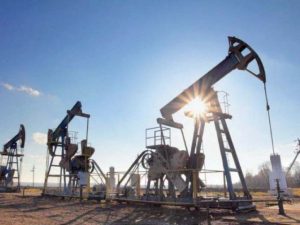 ISLAMABAD:
Pakistan has massive deposits of 10,159 trillion cubic feet (tcf) of shale gas and 2.3 trillion barrels of oil – estimates that are several times higher than figures given by the US Energy Information Administration (EIA), reveals a study conducted with the help of US Agency for International Development (USAID).
EIA had reported in April 2011 that 206 tcf of shale gas was present in the lower Indus Basin, of which 51 tcf were technically recoverable.
However, in June 2013, EIA revised the estimate upwards to 586 tcf, of which 105 tcf were tipped as technically recoverable. Apart from gas, EIA also saw the presence of 9.1 billion barrels of shale oil that were technically recoverable out of the estimated deposits of 227 billion barrels.
Speaking at a press conference, Petroleum and Natural Resources Minister Shahid Khaqan Abbasi said the study was undertaken with the support of USAID in January 2014, and was completed in November this year.
He said the study confirmed that Pakistan had 10,159 tcf of shale gas and 2,323 billion barrels of oil reserves.
Source of the news: https://tribune.com.pk/story/994883/hydrocarbon-presence-pakistan-has-10159-tcf-of-shale-gas-deposits-usaid/